Marcy
is a contestant on
Total Drama Designers
. She is
Dallas1185
's character.She signed up tenth.She is labeled as the
Heartless Flirt
.
Audition Interview
Edit
Tell us a bit abut you...
I'm not here to make friends I'm here to win and do nothing else!
A fault and a virtue of yours...
None............ except for maybe my irrational fear of snakes don't judge me!
Why did you sign up?
I thought it was a good way to get my name out into the world of fame.
Do you think you can win?
Of course and I was born to win this thing!
Which obstacles do you think you will have for winning? None except for maybe the snake thing but other than that none.
Pre-Game Interview
Edit
How far do you think you'll make it?
The end!
Who would you want to be in the final three with?
Anone that's useful/easy to persuade.
What do you think about all the other competitors?
Losers pretty much some have small potential but over all losers.
Who would you eliminate first?
The major competition.
How do you think you will make it in challenges?
My rock hard talent
If you had to choose someone to come in the competition to accompany you, who would it be?
My twin sister Lacey she's almost as talented as I am.
Prizes Rewarded
Edit
Marcy has been rewarded
Design Gallery
Edit
Song - Dont Trust Me By 30H!3
Edit
She is the first person ever in Total Drama History to be in a relationship with the host in this case it's Marcy with Stefano DiMarco.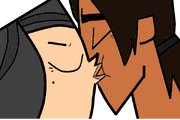 It is revealed Marcy used to be popular but when she gained weight her popular friends left her to be alone making her be afraid to make friends ever since.
Marcy is also the only contestant to be hated by everyone and than be liked by them in the same season.
She has a twin sister named Lacey.
Both her and her sister have been attracted to Stefano DiMarco at one point.
Marcy is the antagonist to make it the farthest in TDD.
She is currently in a relationship with Johnny.
She came in third in TDD.