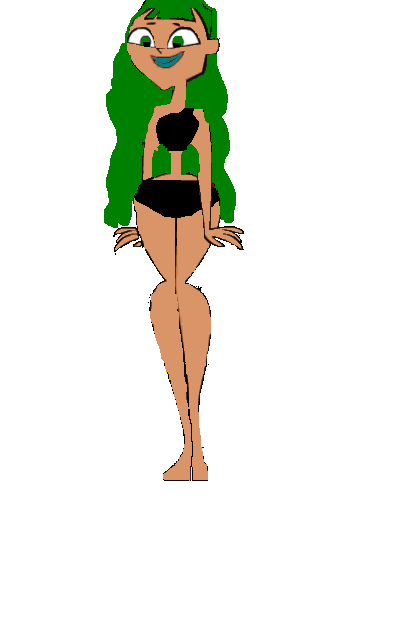 Olive
is a contestant on
Total Drama School
. She is labeled
The Clumsy Girl
.
Audition Interview
Edit
Tell us about yourself. Traits, age, country, family, relationship, etc. Hi! I'm Olive! I am clum-*falls over* OW! *chuckles* You may ask, "Why is her hair green?" Well it's because when I was younger I fell into a bucket of green paint. In fact Olive isn't my real name it's- *falls over* OW! Now what was a talking about. *shrugs* I have dated before. OH! And I from the BIG APPLE! YEAH! *falls*
How do you see yourself in the future? Well I would be working as an artist. I'm an AMAZING ARTIST! BOO-YEAH! *trips*
How do you see yourself in the competition?
Falling, getting hurt, making friends!
Do you think you can win? Maybe! If I don't end up in a full body cast!!
Why? I'm nice and friendly! *falls*
What do you think will happen to you in the competition? I WILL GET HURT!
What do you aspire in your life?
Pre-Game Interview
Edit
Why do you think you will be eliminated?
Idk! I'm just here for fun!
Which place do you think that you will get? Maybe...5th?
How do you see the other contestants?
Jackson: IDK...
Johnna: She's goth....but that girl can SING!
Nikki: She's nice and pretty!
Mason: He's more Johnna's type...
Sally: Orange?
Andrea: *shudders*
Jeff: Meh...
Daniel: One of the "D's"
Derek: Another "D"
Danny: HEY NIKKI!!!!
Jude: *blushes*
Vicki: She's nice!
Dylan: Well...
Ally: Who?
Danielle: She is?
Kristi: I DON'T KNOW HALF THESE PEOPLE!
Alan: WTF!?!?
Bianca: WTF?!???!?!
Mikey: OMG!!! WTF?!?!?!?!!??!!?!?!?
AJ: Oh. He's nice!
Do you have a strategy for winning? Which one?
Not really/ I mean I love my friends!
After-Game Interview
Edit
Why did you get eliminated?
What do you think of the left contestants?
Will you miss someone? Who?
Are you happy to see someone again?
Would you like another chance?
How do you feel about your elimination?